If you are thinking about installing a Water Well, you have come to the right place.  Partridge Well Drilling is your one stop for water well drilling, no matter how big or small.
The premier water well drilling company in Jacksonville, Partridge Well Drilling was established in 1892 and we have been serving the North Florida area for over 120 years.  Learn more about our company and our history.
We have constructed several thousand residential water wells and commercial water wells  for many different uses, including:
Wells for Domestic use,
Water Well for Agricultural use,
Wells for Industrial use,
Wells for Public Water Supply,
We don't just drill wells though, we offer complete beginning to end well services including:
Aquifer Performance Tests
Well Abandonment
We are your one stop for all your water well needs.
Water Well Drilling
There are a lot of factors involved in the drilling of a water well. Whether it is a deep well or a shallow well, the geography surrounding the area, the particular use of the well,  it is a complex and difficult process that should only be attempted by a licensed professionals with the right equipment and ample experience.
Drill rods can weigh several tons presenting safety risks. Well diameters range from 1″ to 30″ and to depths of 1500 feet depending on the type of well, and different types of geological formations will require different types of drill bits. There are many factors that can contribute to the difficulty and ultimate success of your water well project. An inexperienced driller can set your project back time and time again, while costs skyrocket.
Partridge Well is fully licensed and insured and has been drilling in North Florida for over 120 years.  We know the area,  and we have records for nearly every well that we have drilled, which makes us the leader in water well drilling in the area.
Types of Water Wells
Which type of well is right for you?  That is going to depend on what the purpose of the well is.  Some wells are better for lawn and irrigation while others are better suited for water for the home or business.  The geography of your location and budget will also play a major role in determining your best solution.
With over a decade of experience and history of drilling in the North Florida area, we will work with you to develop your requirements, and find the best solution for your needs.
There are four basic types of water wells that we drill :
Click on any of the well types above or learn more about the types of water wells we dig in North Florida here.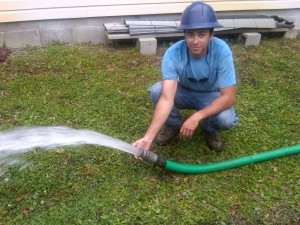 Professional Service Just A Phone Call Away
We are ready to talk you today about you water well project.  We offer FREE ESTIMATES and we are ready to get you on the schedule today.  Call our office at (904) 269-1333 or contact us via email by using the simple contact form.
Check out our "Thinking about investing in a Partridge well?" album on our Facebook page for more pictures and information about the water well drilling process.