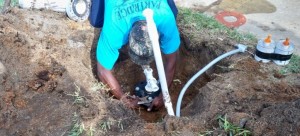 Pumps can be a major investment, so when you have issues, you want to call pump repair experts so you know that the jobs will get done fast, and correct the first time.  Partridge Well has been servicing pumps and drilling wells in North Florida for over 120 years, so when you need help, give us a call.  We can take care of the issue, no matter how big or small.
Residential, Commercial or Municipal
From a small sump pump to industrial deep well pumps, no job is too big or too small.  Stocked with 10 trucks,  24/7 emergency service, and a full line of pumps and parts, we can handle any job. We also offer Free Estimates on our services.
Save on Pump Repair with Proper Maintenance
By maintaining your pump correctly, you can save time and money on sometime costly pump repair work. Pumps can be expensive and proper maintenance should be handled by a professional. A properly maintained pump will last longer and require fewer repairs. But a pump that is neglected can break down frequently, cause shock, burns, property damage, or even death.
The pump maintenance schedule can only be determined by a professional, as many factors determine the needed intervals. If the pump is abrasive, corrosive, or potentially explosive the intervals should be shorter.
Many things must be done as a matter of routine to ensure the life of your pump, including, but not limited to:
Pump Motor Maintenance
Pump Seal Monitoring
Pump Vibration Analysis
Pump Discharge Pressure
Pump Temperature Monitoring
Routine Inspections for your pump are needed.
We offer quarterly through yearly inspections on your pump system.
Pump Maintenance Programs
Partridge Well Drilling is pleased to offer pump maintenance programs. These are offered to prevent major pump failures and costly repairs. Maintenance programs are tracked by computer and letters are mailed to notify when maintenance is due. Please Contact Us to learn more or get a Free estimate for a pump maintenance program.