There are four basic types of water wells that we drill: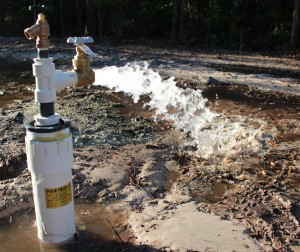 FLORIDAN AQUIFER/ARTESIAN
INTERMEDIATE
ROCK
SCREEN/GRAVEL PACK
Only the Floridan Aquifer well is present in all areas of North Florida. Different procedures are used in the construction of these wells, requiring different casings and sealing methods. Well and casing depths will vary with the area.
Floridan Aquifer Well
Floridan Aquifer Wells (sometimes referred to as an artesian well) are drilled 3″ and larger in diameter and are cased from the land surface to the Ocala Limestone. The depth of Floridan Aquifer wells range from 250-1,000 feet. The total depth will depend on the well's location and the type of use. In most cases this well contains sulphur but no staining mineral content. Water from this well comes strictly from the Floridan Aquifer, our most dependable water source. The Floridan Aquifer well, in most areas, provides the largest volume of safe and dependable water. [ See DIAGRAM to the right]
THE FLORIDAN AQUIFER WELL CAN BE PERMITTED IN YOUR COUNTY.
Intermediate Well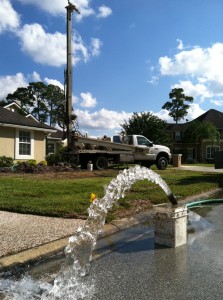 Also known as a "Salt & Pepper" well, Intermediate wells are normally 3″ or 4″ in diameter and are drilled to depths of 220-320 feet. S&P wells cannot be obtained in all areas. This well may contain some sulphur content and can sometimes produce sand. In certain areas S&P wells provide dependable drinking water supplies. S&P wells normally require a deep well jet pump because of the deep water level they usually have.
Rock Well
Rock wells are normally drilled with 2″, 3″ or 4″ casing to a depth ranging from 80′ to 200′ deep depending on the area. Sometimes these wells are abundant in mineral content, such as iron. These wells produce safe drinking water and must be pumped from the ground. In most cases this well can be drilled in 1 to 1.5 days.
Screen Gravel Pack Well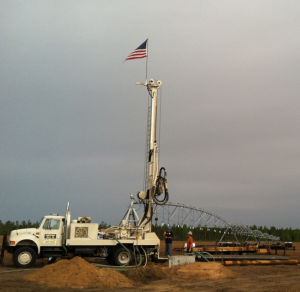 Screen wells are normally drilled with 2″, 3″ or 4″ casing with a screen installed where the coarse sand and/or shell is located. This well is drilled when a rock well cannot be obtained due to absence of rock in the area or not enough water in the rock. The depth for this well ranges anywhere from 60′ to 150′ depending on the area. This well requires a pump to obtain the water. It produces safe drinking water and is typically used for irrigation. It can usually be drilled in one day.