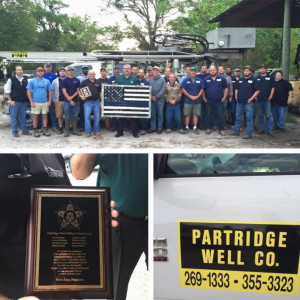 The staff at Partridge Well was recently honored by the Fraternal Order of Police Lodge 530 and the Jacksonville Sheriff's office.  This is from the recent incident that occurred directly outside of the Partridge Well offices when a member for the Jacksonville Sheriff's Office was wounded in an attack at the railroad tracks.  We like to think that we did what anyone would have done it that situation, and we were more than happy to lend a hand.
While we appreciate the title of the story, we are the ones that are honored to recognized by the real heroes of our community – the Jacksonville Sheriff's Office and the Fraternal Order of Police Lodge 530. Thank you guys for the shout out, and a big thanks to the Fraternal Order of Police Lodge 530 for the awesome Paul Riley painting and the plaque.  We will display it with pride.
Here is the story that was posted on the FOP Lodge 530 and the JSO Facebook profiles.
Cops Have Heroes Too
Recently, an off-duty undercover JSO officer was senselessly attacked while conducting a traffic stop on a reckless driver on Jacksonville's west side. This has been well documented and had been the subject of numerous news stories.
Here's what many people don't know. This event occurred mere feet away from the local business Partridge Well Drilling Company at 4744 Collins Rd. Upon hearing gun shots, no fewer than 11 employees rushed outside of the business property and to the fallen Officer's aid.
On April 4th, 2016, FOP Lodge 5-30 President Steve Zona presented Pat Partridge, owner of Partridge Well, with a Thin Blue Line painting by Paul Riley (www.paulrileyartist.com) and a plaque commemorating the heroic efforts of his employees.
We, the members of FOP 5-30, cannot express how fortunate we feel to protect a community that is willing to protect us. On behalf of the entire membership of FOP 5-30, thank you to the all who came to the aid of our member in his time of need.